Wall Street Fears $1 Trillion Aftershock From Debt Deal
Looming behind market fears over the prospect of a historic US default is the less-discussed risk of what would follow a deal to resolve the debt-ceiling impasse.
Many on Wall Street predict lawmakers will ultimately reach an agreement, likely averting a devastating debt default, even if it goes down to the wire. But that doesn't mean the economy will escape unscathed, not just from the bruising standoff but also as a result of the Treasury's efforts to return to business as usual once it can ramp up borrowing.
Ari Bergmann, whose firm specializes in risks that are hard to manage, says investors should hedge for the aftermath of a Washington resolution.
What the market veteran is getting at is that Treasury will need to scramble to replenish its dwindling cash buffer to maintain its ability to pay its obligations, through a deluge of Treasury bill sales. Estimated at well over $1 trillion by the end of the third quarter, the supply burst would quickly drain liquidity from the banking sector, raise short-term funding rates, and tighten the screws on the US economy just as it's on the cusp of recession. By Bank of America Corp.'s estimate, it would have the same economic impact as a quarter-point interest-rate hike.
Higher borrowing costs in the wake of the Federal Reserve's most aggressive tightening cycle in decades have already taken a toll on some firms and are slowly crimping economic growth. Against this backdrop, Bergmann is especially wary of an eventual move by Treasury to rebuild cash, seeing the potential for a massive reduction in bank reserves.
"My bigger concern is that when the debt limit gets resolved — and I think it will — you are going to have a very, very deep and sudden drain of liquidity," said Bergmann, founder of New York-based Penso Advisors. "This is not something that's very obvious, but it's something that's very real. And we've seen before that such a drop in liquidity really does negatively affect risk markets, such as equities and credit."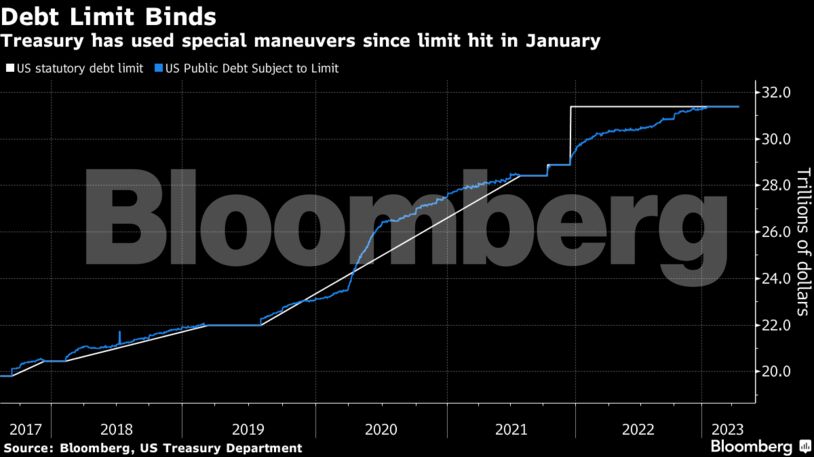 The upshot is that even after Washington gets past the latest standoff, the dynamics of the Treasury's cash balance, the Fed's portfolio-runoff program known as quantitative tightening, and the pain of higher policy rates all stand to weigh on risk assets as well as the economy. And a deal is looking more likely.
House Speaker Kevin McCarthy said Thursday that negotiators on the federal debt limit may reach an agreement in principle as soon as this weekend and that he expects his chamber to consider a deal by next week.
After a debt-cap resolution, the US cash stockpile — the Treasury General Account — should soar to $550 billion as of the end of June from the current level of about $95 billion — and hit $600 billion three months later, according to the department's most recent estimates.
A rebound will affect liquidity across the financial system because the cash pile operates like the government's checking account at the Fed, sitting on the liability side of the central bank's balance sheet.
When the Treasury issues more bills than it technically needs during a certain period, its account swells — pulling cash out of the private sector and storing it in the department's account at the Fed.
Another important piece of the puzzle is the Fed's reverse repurchase agreement facility — dubbed the RRP — which is where money-market funds park cash with the central bank overnight at a rate of just over 5%.
$2 Trillion Stashed
That program — currently over $2 trillion — is also a liability at the Fed. So if the Treasury account increases, but RRPs drop, then the drain on reserves is lower.
But Matt King at Citigroup Inc. says money funds' tendency to keep cash in RRPs will most likely persist, which could mean a sizable drain in bank reserves when the Treasury's cash jumps.
And that would come as major central banks have already been siphoning off liquidity through aggressive tightening campaigns and efforts to unwind their balance sheets.
"We are shifting from a very significant tailwind of global central bank liquidity over the last six months to probably a significant headwind," said King, a global markets strategist. "What we really care about is reserves, which should be falling. So I'm strongly leaning to risk-off at this point."
For Priya Misra at TD Securities, the concern is that reserves will become scarce, upsetting funding markets that are at the heart of many trades on Wall Street.
Such scarcity "matters a lot because it moves up repo rates," said the firm's head of global rates strategy. "High repo rates typically result in a big risk-off. If I'm a hedge fund, my entire business model is based on borrowing money. And what will happen is not only will the rate go up, but I might not be willing to lend to you."
That sort of impact on funding markets is essentially what was seen after the 2017-2018 debt-ceiling episode — when the Treasury issued $500 billion of bills in roughly six weeks.
Of course, the Treasury knows a deluge could roil markets and queried primary dealers on the topic in the latest refunding period. The firms encouraged the department to monitor markets for potential stress, to ensure it doesn't restock its cash balance too quickly.
The US remains dangerously near the current federal debt limit of $31.4 trillion, at which point it could lose the ability to meet all its payment obligations. Treasury Secretary Janet Yellen says that the critical moment — the X-date — could arrive by June 1. Since mid-January, her department has been using so-called extraordinary measures to keep paying debts — such as reducing benchmark bill auction sizes.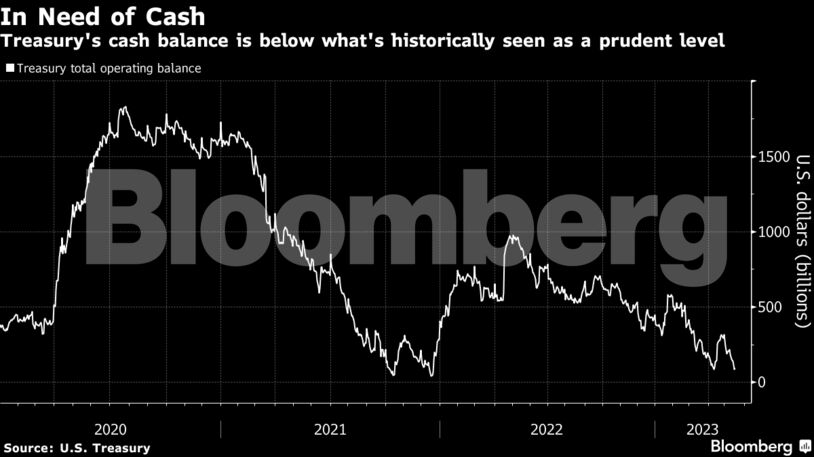 "The Treasury has to rebuild their slush fund," which "removes liquidity from the system," Jerome Schneider, head of short-term portfolio management and funding at Pacific Investment Management Co., said on Bloomberg Television.
Just how much liquidity will actually be drained from the banking system depends on who buys the bills that will be sold, a team of JPMorgan Chase & Co. strategists including Nikolaos Panigirtzoglou wrote in a note Thursday.
For Barclays Plc strategist Joseph Abate, there could even be consequences for Fed policy.
If money funds don't pull cash from RRPs to buy some of the newly issued bills, it would "drain proportionally more bank reserves" and force the Fed to reconsider its roughly year-old program of quantitative tightening.
A message from Advisor Perspectives and Vetta Fi: To learn more on this and other topics, check out our full schedule of upcoming CE-approved virtual events.
Bloomberg News provided this article. For more articles like this please visit bloomberg.com.